L'Arc~en~Ciel: Tierra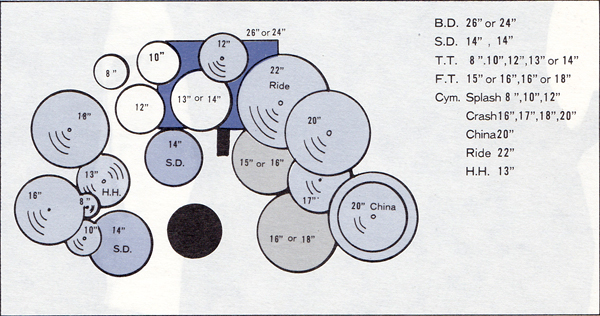 The album "Tierra" was recorded not long after "DUNE," which makes me think not much had changed in Sakura's set. He did acquire a new Pearl FX drumset which he says he used for this album. It is quite likely Sakura did some experimenting with different drums/sounds based on the song. For example, I would not be surprised if roto-toms were used in certain songs on this album. I have no pictures or direct information on his recording setup for this album, so the above pictures come from his "FEEL OF DUNE" set, which is likely what he would have entered the recording studio with for Tierra.
DRUMS:
Snare drums: 14"x6.5" Pearl Free-Floating Aluminum, 14"x5.5" Pearl Hammered Steel
Toms:
Pearl FX
, 8"x8", 10"x8", 12"x8", 13"x8", 14"x8", 15"x14", 16"x14", 16"x16", 18"x16"
Bass drums:
Pearl FX
, 24"x16" or 26"x16"
Unfortunately, I do not have any info on what sizes of toms or bass drums were used for recording "Tierra," so I just listed all the ones I believe he has. It is doubtful he used all the toms at once, but instead he probably chose specific sizes for each song.
HEADS:
Snare: Remo Coated Ambassador (top), Remo Ambassador Snare Side (bottom)
Toms: Remo Coated Ambassador/Emperor (top), Remo Clear/Coated Ambassador/Diplomat (bottom)
Bass drum: Remo Smooth White (batter), Pearl stock reso head
These are all educated guesses based on the sound and what he generally used in this time. However, Sakura did state that with Coated Ambassadors, the fiberglass drums had "too much power" and that Emperors were better for them. He did not state this to mean he necessarily used them on the album though, so I cannot say for sure one way or another. Also, he seemed to primarily use clear heads around this time period.
CYMBALS:
13" Paiste Signature Dark Crisp Hi-Hats
22" Paiste Signature Dry Ride
20"-16" Paiste Signature Full Crashes
12", 10", 8" Paiste Signature Splashes
20" Paiste 3000 Reflector Chinese
Sakura almost certainly used a similar set of cymbals as on DUNE.