ZIGZO: MONSTER MUSIC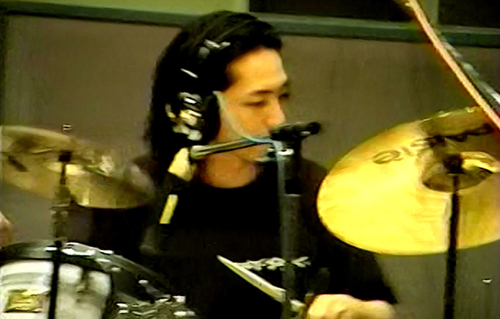 After coming back from his arrest, Sakura decided he was going to continue to "keep it simple" as he did in True. In an interview he stated that no matter what gear John Bonham was using, it always sounded like Bonham... similarly, Sakura wanted to just use his normal set-up and focus more on his playing rather than his gear. It's a very admirable thought process but it doesn't last very long!
DRUMS:
Snare drum: 14"x6" Lang Percussion Gladstone
Toms:
Pearl MR
12"x8", 13"x8", 16"x16", 18"x16"
Bass drum:
Pearl MR
26"x16"
Although he rarely adjusted this set-up, he did comment that he tuned the drums especially for each song. He also switched between having one and two rack toms.
HEADS:
Snare drum: Remo Coated Ambassador (top), Remo Ambassador Snare Side (bottom)
Toms: Remo Coated Ambassador (top), Remo Clear Ambassador (bottom)
Bass drum: Custom "black dot" type head (batter), Pearl stock reso head (resonant)
I mentioned in the "True" recording section that the "black dot" type head he used live was custom made by himself. I am not sure if he also used this in the studio however.
CYMBALS:
15" Paiste 2002 Sound Edge Hi-Hats
22" Paiste Signature Dry Ride
18" and 17" Paiste Signature Full Crash
12" or 10" Paiste Signature Splash
18" Sabian AAX Chinese
The following screencaps from "THE FIRST SCENE" DVD show Sakura in the studio, ever so discreetly using Paiste cymbals (hah). The second screencap is downright scandalous: Sakura on a Ludwig drumset...! What this was used for I'm not sure. As you can see in these shots he's using only 1 rack tom but he said he used both 1 and 2 depending on the track.