ZIGZO: Add9 Suicide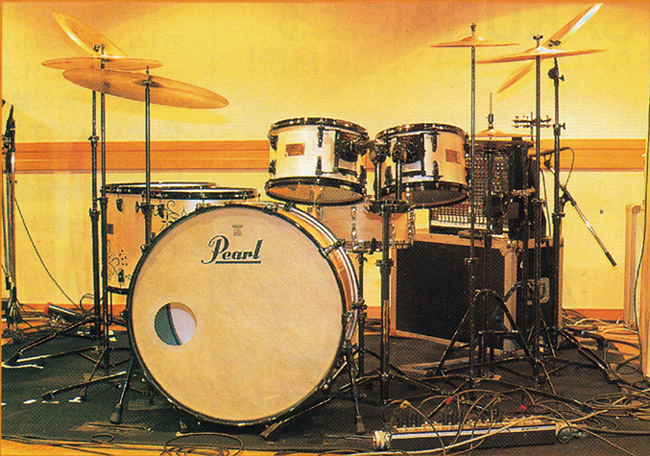 Although I have a number of interviews with Sakura from this period, he and the magazines don't bother to detail much in the way of his gear set-up in the studio. Unlike "MONSTER MUSIC" Sakura is experimenting with a variety of sounds once again, and even using two different drumsets. To exasperate things more, he was trying a variety of approaches to drumset micing, resulting in a very different sound for his drums than usual.
DRUMS:
Snare drums: 14"x6.5" Pearl Custom Classic, 14"x6" Lang Percussion Gladstone, 14"x6.5" Pearl Carbonply Maple
Toms:
Pearl MR
12"x8", 13"x8", 16"x16", 18"x16",
Pearl Carbonply Maple
12"x8", 13"x8", 16"x16", 18"x16"
Bass drums:
Pearl MR
26"x16",
Pearl Carbonply Maple
24"x16"
Here's what I can glean from Sakura himself: he used his Carbonply Maple set for most songs, but his second MR set for a few. "splash!" however seems to be recorded under very similar conditions as the songs on MONSTER MUSIC and probably uses his MONSTER MUSIC drums. Another thing to consider is that Sakura pitched the idea of using his MR bass drum with his Carbonply Maple toms on tour even though it would look a little strange. Whether he actually did this in the studio or not is anyone's guess at this point.
The snare drums on this album all sound to be wood drums (except "got "S" and death" in which Tetsu says Sakura's actually hitting a trash can... I can't tell if he's joking or not). So I have just listed the top 3 "potential" snare drums, in order of most likely to least likely. The last one is somewhat unlikely as Sakura doesn't seem to care for its sound much. I think he just wanted the snare to match his CM set. Of course it's very likely he used a variety of snare drums, so it could be some or all of these on different tracks. But I think, given from the sound, we can discern that it's definitely a wood drum.
HEADS:
Snare drum: Remo Coated Ambassador (top), Remo Ambassador Snare Side (bottom)
Toms: Remo Coated Ambassador (top), Remo Clear Ambassador (bottom)
Bass drum: Custom "black dot" type head (batter), Pearl stock reso head (resonant)
I have not seen his carbonply maple bass drum with his custom "black dot" head so it is possible he was using a Remo Pinstripe on that one. Other than that his head choices likely haven't changed much.
CYMBALS:
15" Paiste 2002 Sound Edge Hi-Hats
22" Paiste Signature Dry Ride
18" and 17" Paiste Signature Full Crash
12" or 10" Paiste Signature Splash
18" Sabian AAX Chinese
The cymbals, more than the drums, come across very differently in this album than in his previous recordings. I think it's the influence of the unusual micing set-ups rather than a different set of cymbals, however it is definitely not out of the question. So I have basically just assumed he's using the same old cymbals.
The images on this page are not studio pictures, but should represent closely what his kit was like for recording ZIGZO's "Add9 Suicide." Snare drum and cymbals are very likely to be different on the recording.