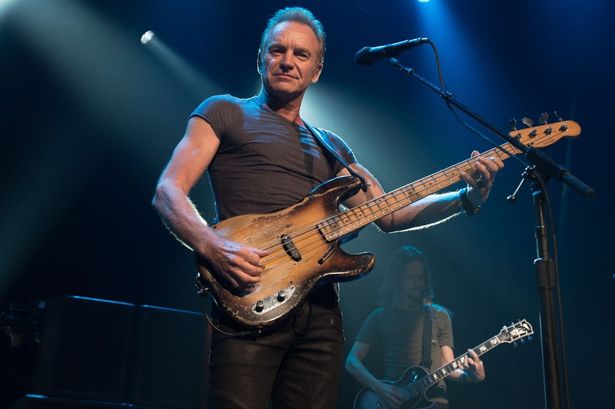 Sting
Being a fan of The Police, it was only natural that I listen to Sting, too. I can see why he wanted to branch out; he definitely went places in his solo career that he could not go with Stewart and Andy. But, he seems to fall in the trap that happens to many artists who go solo from a band: the quality becomes very uneven. There just seems to be something about going solo that lets more poor quality material through the cracks, without band members to temper it. Sting's solo career continued beyond what I have collected here, but he seemed to get less interesting as time went on.
Album Reviews
Imagine that: Sting's first solo release has nearly inaudible bass and very little guitar. Keyboards and saxophone play the leading roles now. It also has big, booming drums, as well as Cold War lyrics. Must be the '80s! There's a mix of radio friendly pop tracks, a nod to The Police's reggae roots in the calypso Love is the Seventh Wave, a cool, upbeat, jazzy take on the old Police tune Shadows in the Rain, and then a bunch of jazzy tracks. Consider me Gone and Moon Over Bourbon Street are as close to this album gets to actual jazz. There's a high number of great tracks, as well as Sting's usual array of less inspiring music. An interesting solo debut.
Best tracks:
1. Fortress Around Your Heart
2. Children's Crusade
3. We Work the Black Seam
A lot of people see this as a classic Sting album, since he greatly expands his sound, delving into all kinds of world music and sounds, and it's a nice, long album. Well, unfortunately, there aren't that many great tunes; most of them are good, but there are also a fair amount of losers. Sorry, Hendrix fans; I know the Little Wing is a lame, soft-rock version of a Hendrix tune, but actually I'm not a huge Hendrix fan, and I find this version quite good. Other than that, you get Sting at his most diverse and experimental. Songs may hit the mark for you may than they did for me.
Best tracks:
1. Little Wing
2. The Lazarus Heart
3. They Dance Alone (Cueca Solo)
Here is where Sting really produces something great. First of all, it's an album without any bad tracks. Nothing silly or dull here! But further, it's really concentrated in its purpose and mood. It's a reflective album, created in the wake of Sting's father's death. Even the peppier number, All This Time, an undeniable pop song, still has thoughtful and sober lyrics. It may not be as popular with those who like Sting's experimental and/or upbeat music, as it really lacks that. But if you're looking for an album, a unified collection of songs, in which all of them are good, then this is it for Sting.
Best tracks:
1. All This Time
2. Island of Souls
3. Mad About You
I believe this is one of Sting's most commercially successful albums. Like The Soul Cages, it's not particularly diverse, but it's the opposite in mood: this album is very upbeat and playful. There's a few quieter moments, such as Fields of Gold and the beautiful acoustic guitar piece Shape of my Heart, but the rest of the songs end up on the faster or more positive side. Sting gets downright silly in some places: the lyrics to Seven Days are a goofy story about male rivalry over a girl, and Saint Augustine in Hell has a breakdown in the middle with a monologue from Beelzebub himself. A fun listen, and generally good overall.
Best tracks:
1. If I Ever Lose my Faith in You
2. Fields of Gold
3. Shape of my Heart
With Mercury Falling, Sting continues down a sort of adult contemporary path. The quality gets more uneven though. Most of the first half of the album is quite good, but the second half.... hmmm. You Still Touch Me is pretty lame, but it's then followed by I'm so Happy..., Sting's first, and I think successful, foray into country music. Strange, but it works! And then everything after that stinks. The number of unimpressive songs is quite a bit higher than in his previous releases, and that number only continues to grow with successive albums. That's why I stop with this album.
Best tracks:
1. I Was Brought to my Senses
2. The Hounds of Winter
3. I'm So Happy That I Can't Stop Crying
Top 10 Songs
Fortress Around Your Heart I Was Brought to my Senses If I Ever Lose my Faith in You All This Time Island of Souls Children's Crusade Little Wing Mad About You Another Day The Lazarus Heart